In season 1981/82 my brother and I were taken to watch an established First Division team take on Bobby Robson's Ipswich Town. The grand total for the 'match-day experience' was a mere £6.35 (£2.75 for an adult ticket, £1.50 each per child ticket and 30p each for two programmes). Twelve years later, with my team now in the recently formed Premier League, I had graduated to standing on the terraces with my mates for £4. By the mid 90s, however, the Taylor Report recommendations were starting to take effect as the mighty terraces of English football – the North Bank, the Holte End, the Kop, the Stretford End and the Shed – were replaced by seating and, whilst many football fans lamented their loss, the marketeers saw an opportunity to make some serious money out of football followers.
Since then ticket prices have sky-rocketed, with the price Arsenal charges away fans for category A matches at the Emirates recently reaching as high as £62. (The fact that Arsenal and other clubs have named their new stadia after their main sponsors shows how important making money from every possible avenue now is to club directors.) Manchester City and Liverpool supporters argued that this was a price hike too far and fan loyalty was being taken for granted. When those teams visited The Emirates, their fans protested inside the ground with an array of banners: '£62!! Where will it stop?', 'Working class game – Business class prices' and 'Football without fans is nothing'. City sent back roughly 900 tickets unsold. This incident alone raised real concerns over pricing in the Premier League.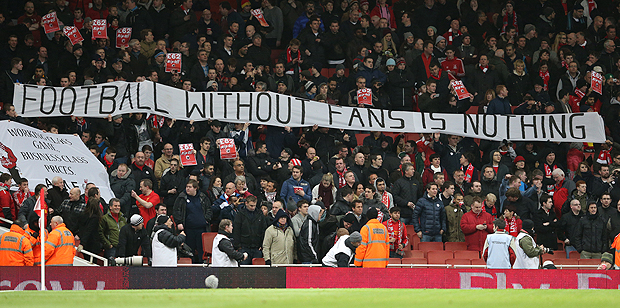 Season tickets for 2012/13 at Arsenal weigh in at between £985 and £1,955. Chelsea and Tottenham Hotspur's highest priced season tickets also break the £1,000 mark, with Queens Park Rangers and Fulham not too far behind. The Premier League's cheapest season ticket is available from Wigan Athletic, priced at £300. At Chelsea, by contrast, the minimum concessionary rate for seniors and under-18s is only £15 less expensive than this. All this when season ticket prices at Arsenal, Chelsea, Manchester United, Liverpool, Queens Park Rangers and Stoke City have been frozen.
It was never meant to be like this. Lord Justice Taylor wrote in his report, commissioned after the Hillsborough disaster, which recommended all-seater stadia:
'Clubs may well wish to charge somewhat more for seats than for standing but it should be possible to plan a price structure which suits the cheapest seats to the pockets of those presently paying to stand.'
He cited £6 as a guide price for seating, using the sum charged at Ibrox as a yardstick. At the time the Football Supporters Association argued against all-seater stadia on the basis that clubs would use them as a vehicle to substantially raise ticket prices. This is exactly what transpired.
The biggest losers from the huge inflation of Premier League ticket prices have been the young and the older supporter. Rogan Taylor, previously chair of the FSA and now director of Liverpool University's football industries group, says:
'Of course, the grounds have improved out of all recognition but the ticket price increases have not mostly been necessary to pay for that – they are now going into the arms race of escalating players' wages. When I go to Liverpool now (cheapest adult price £45 for a category A match compared to £4 in 1989/90) I don't mostly see a bourgeois, middle-class crowd, but ordinary people who must be stretching to afford it. And the two groups who were clearly excluded when the prices went up were older people who had stuck with the game through some terrible times, and young people.'
According to Premier League surveys the proportion of 16–24-year-olds attending in 2006/07 was just 9%, rising slightly by 2007/08 to 11%. David Conn, the respected Guardian sports journalist, noted a significant increase in 2010/11 to 19%, reportedly down to improvements in the way the survey was carried out. Even for youngsters, prices at many clubs are very high: £17-25 for Category A matches at Chelsea, £23-39.50 at Manchester Utd and £23-35 at Reading (£15-25 for under 16s). A father wanting to take his two sons to a fixture equivalent to the one I enjoyed in 81/82 for £6.35 would have to pay well over £100 on tickets and programmes alone, before food, travel and so on had been taken into account.
However, apart from a few former Premier League clubs based in poorer northern towns, such as Bolton Wanderers, Blackburn Rovers and Wigan Athletic, who have in recent seasons made a real effort to reduce ticket prices and provide attractive deals for supporters, the future does not look good. Proposed experiments reintroducing some terracing to Villa Park, for example, have been quietly shelved as clubs realise that the sorts of ticket prices they could charge for standing would reduce overall match-day revenue (along with the fear of a return to 70s and 80s terrace 'culture'). This is in marked contrast to the outlook in Germany, where their football association confirms that standing areas have fostered 'positive fan culture' fuelled by 'modest ticket prices' (approximately £12 for the 13,500 standing at Bayern Munich) which 'must be preserved and protected'. Another potential problem, according to David Conn in the Guardian, is that the new UEFA financial fair play rules could force clubs to limit the amount that clubs can pay players' wages from the Premier League's TV income; clubs, however would be able to 'increase wages from commercial revenue – or ticket income' (8 February 2013). This, coming at a time of outcry at the cost of attending football matches, could prove incendiary.
Nowhere has the clash of cultures between the corporate money-grubbers who now control football in England and the grass-roots working-class fans who have stuck by their teams through thick and thin been so directly felt. If left unchecked, the pricing strategies being pursued by top-flight clubs could prove disastrous for a whole generation of young – and older – English football fans.