A game of three halves
Tories 2 – Lib Dems 3 – Labour 0 (goals conceded)
This is not the official 'philosophical' match report. It's a minute-by-minute report sent just after the game editing the SMS sent from Ally, pitch side in London, to Fil, in the press box at the Bernabeu in Madrid. Read more about this match here.
SPORT: Three-sided football
EVENT: Tories, Lib-Dems and Labour fight it off on the pitch before the election
PLACE: Haggerston Park, London, E2
WEATHER: Shitty, cold and wet
Preview of the game: The match is organised by the Whitechapel Gallery's new writer-in-residence, Sally O'Reilly. She wants the game to echo the alliances, competition and connivances of the political machine.
Geoff Andrews, Manager of Philosophy Football FC, said: 'The General Election has turned into a three-sided affair and so a three-sided football match seemed apt. We can expect some sharp tactics from Mandelson and co though nothing to compare with what will be on display at Haggerston Park.'
Origins of 3 Sided Football: devised by artist Asger Jorn (1914–1973), his idea for 3 sided football was for it to deconstruct the confrontational, bi-polar nature of party politics. So instead of winning by scoring goals, a team wins by conceding the fewest goals.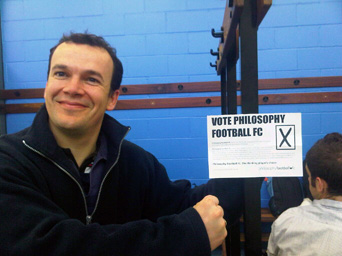 16.26 (all CET time) – Tories finally turn up and the match is off. PF Line up is: Owen; Andrea, Raj, Michele; Luigi in middle with Dave; Matt and Mauro up front. The formation is the Y designed by Mr. Ricci 24 hours before the match, 3-2-2, with the forwards split in the top part of the Y, one in front of each opponents goal. On the bench we have Andy, Ally and Clarkey.
Referees are PFFC chairman Hugh Tisdale and gaffer Geoff Andrews.
Pitch is magnificently marked out by some distant relative of Pythagoras that followed the illuminated suggestion of Goob 'Euclid' Fox. Early corner swung in towards the Tory goal box by Luigi, Mauro heads in and the score is 1-0-0. Ally is off to set up an allegiance with the Lib Dems.
When giving the score, this will be the order: Tories, Lib-Dems, Labour.
REMEMBER: the winner is that who concede LESS goals.
16.28 – The Tory goal is getting battered. It seems when you go in one direction against a team the natural reaction is for both teams to keep attacking that goal.
16.45 – The score is now 2-0-0 after Matt found the Tory net. Handball! Hugh (Laurel) and Geoff (Hardy) don't know what to award. The decision is a penalty against the Tories. Luigi to take it … and it's saved!!! A quick break and it's a goal against Lib-Dems. Score: 2-1-0. Chants of 'catenaccio' and 'get the Tories' abound.
16.47 – The first half time is reached. 2-1-0. I asked the Tory players to pass to us when bearing down on Lib-Dem goal. Alliances must be reached. Meanwhile, Andy comes in for Michele.
16.52 – Tories and Lib-Dems announce an alliance! Lots of pressure. Raj announces 'I've got four here' at a corner.
16.56 – Score: 2-2-0. Luigi passes it beautifully into Lib-Dem net.
17.11 – Second half time (remember, this a game of three halves). Score has not changed: 2-2-0. Apparently our catenaccio is holding on firmly and we have a two goal advantage against each of the two opponents. Good pressure on PFFC but the Thinkers soak it up well. More changes: Clarkey on for Mauro and Michele back on for Raj.
17.40 – Ally, in the role of player-writer or player-reporter, comes in for Dave. So … no messages.
Sorry I went on for the last 10. Final score: 3 against Lib-Dems, 2 against Tories, 0 against Labour. I scored final goal against Lib-Dems after a perfect catenaccio move involving Luigi, Clarkey and Matt. Earlier I missed a pen against Tories when Luigi was fouled. Good match.
Very confusing at times: you were sometimes tackling opponents who you should have been requesting a pass off. Instinct takes over and you think both teams are enemies but really you should always use an ally. In this case the enemy of your enemy really is your friend.
SCORE: 2 – 3 – 0
SCORERS (in order of appearance): Mauro, Matt, a Tory, Luigi, Ally.
RESULT: The Labour team wins the elections