Red men excel on blood-soaked soil
After a hearty breakfast in their hotel, the Philosophy Football FC touring party climbed aboard a minibus with a large sign in its windscreen to the effect that its passengers were the precious property of Bilbao's famous Athletic Club. As we were whisked through the streets of this industrial city, we certainly noticed a lot of envious and curious glances from its good citizens, and we shared excited chatter and exchanged ideas and opinions about what might lay ahead. We welcomed back two old friends: Matteo Patrono, a long-serving and skilful comrade from Rome; and Ian Coyne, who had somehow extricated himself from a family holiday in Biarritz and driven over the border to attend his first tour since Parisot 2001 and helpfully solve the PFFC player shortage crisis after Raj was held up in the law courts.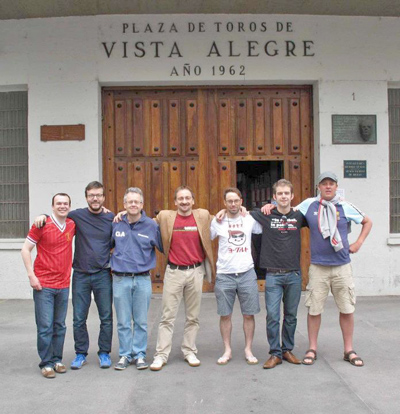 As we disembarked from the team bus we strode up to the mighty edifice that is the Plaza de Toros with its imposing giant oak doors and monuments and statues to the matadors of the past. These doors creaked open to reveal an even more forbidding sight: in the darkened tunnel leading under the stadium to the bullring itself a series of mounted bulls' heads adorned the whitewashed walls, some dating back to 1896, some with matted, dusty white hair, some with huge horns; but they all looked menacing despite having been given the once-over by a taxidermist. This was definitely no Wormwood Scrubs! None of us had really known what to expect from a bullring; we were now getting a clearer picture. Huge futurist posters promoting bullfighting events in 1936 and 1962 featuring the likes of Enrique Ponce and Martin Aguero. My own mind was conjuring up visions of Frank Evans from Salford – known in Spain as El Ingles or the Bus-Pass Bullfighter – who was inspired to take up bullfighting when he saw his first bullfight after attending a wedding in Granada in the early 1960s. My soundtrack to these mental pictures was George Formby's 1937 'hit' The Lancashire Toreador, in which a hapless Lancastrian tries to scale the walls of a castle to nick the great bullfighting hero's missus!
The next sight to greet us was simply inspiring. The darkened tunnel gave way to bright sunlight and the gravel-covered pitch/bullring surrounded by 10,000 seats on three tiers. The pitch had already been marked out into three segments and the goals ready for action in each section of the pitch. It is here that our minds became focused as we all realised that PFFC was here not only to deconstruct the conventional two-sided game, as proposed by Asger Jorn, but we had the extra task of deconstructing the venue from one of bloody violence into one of gregarious and sociable cooperation, at least temporarily.
Once we had changed we re-entered the arena to see our opponents from Bilbao's Athletic Club (red and white stripes) and Santander's Internacional FC (blue and white hoops) busy warming up in a somewhat disconcertingly professional manner. After the game a number of Philosophers admitted that they feared a trouncing, especially from the visibly younger and fitter Internacional side. Just before the team photos were taken, an audacious attempt was made by the manager of Athletic Club to kit us out in white San Miguel-sponsored T-shirts. However the Gaffer wasn't having any of it, and calmly pointed out to him that Philosophy Football's shirts were fundamental to our identity and we'd be staying clad in our traditional red. This meant that the hosts had to change from their red and white stripes to green bibs. The first psychological blow had been dealt by PFFC. In any case, philosophically speaking, what do clashing colours really matter in the three-sided game? Sooner or later we would all effectively be playing for the other teams.
In the early stages of the match, the Red men made very satisfying progress. PFFC started with Ian in goal, Owen and Andrea at the back, Matt and Will covering every shard of gravel in the 'middle' and Matteo up front. Filippo would regularly rotate with Owen in defence or Matteo, pushing Matt 'up top'. The other two teams were clearly slower to adapt to the tactical outlook of the three-sided game, with Athletic the slowest to cotton on to the fact it was relatively safe to pass to an opponent. The blues were obviously very skilful individually and a number of alliances were sought with us to attack the Bilbao side. The experience of PFFC began to tell and fears of a humiliation on Basque soil began to subside as we grew in confidence. As is often the case in these games, we conceded just one goal during the first third in what turned out to be our best defensive period of the match. Ian's reflexes in goal were as sharp as ever, and he made some vital saves, Andrea executed his usual immaculate interventions on the ground and in the air,
Owen was at full stretch to clear off the line. Will and Matt were a constant menace to whomever they opposed and a skilful source of relief to those seeking alliances. Matteo was elegance personified: a constant threat who played some inch-perfect through-balls and crosses. Filippo had lost none of his trademark passion and gave everything for the cause, and his tactical nous was vital.
While concentrating on keeping a secure defence, PFFC also claimed some glorious goals of their own. Matt placed a half-volley into the blue's net and put home a close-range effort in which he had to readjust quickly to meet Matteo's cross. Matteo lashed the ball into the top corner against the greens. Will rifled in a free kick against the blues after Matt had squared, and Matt again teed him up in front of the same goal from close range.
By the end of the second third PFFC had conceded four goals in total, level on goals conceded with both of our opponents going into the final third. A number of Philosophers were carrying cuts and grazes caused by the surface, the blood of PFFC had now been spilt in a venue where it had been pouring for decades. Each 'half time' interval was recorded closely by our Italian film crew, including time spent in the shade in a rather pungent smelling area that had clearly only recently housed some rather angry bulls. Before the final third began a powerful sprinkler system was set up in the centre of the pitch to water the dusty playing surface. A number of players took advantage to cool off and drench themselves. It was just like a scene from the movies when kids from the Bronx or Harlem dance merrily amongst the jets of water spraying from a broken water hydrant on the corner of some street.
Once the final third was underway both PFFC and Athletic attacked Internacional in the hope of taking out the strongest team. PFFC would concede two goals in this third which was somewhat truncated by time-outs called by our opponents (a tactic that we may consider using in the future). In hindsight it was probably wiser just to go for goals against Bilbao although as Filippo pointed out there was a scoreboard malfunction which confused matters. Nevertheless, Will's final strike which he volleyed into the top corner of Internacional's goal to complete his hat-trick was a source a genuine joy as both Gaffer and Owen leapt from their positions from the bench. This late goal tied the scores at 6-6-6, and a little-known rule was then invoked whereby the team which had scored the highest number of goals would win in event of a draw. Athletic Bilbao had scored 5, Philosophy Football FC 6 and Internacional FC 7. I have a feeling that Asger Jorn was turning in his grave at this this inversion of his ideals.
At the post-match drinks and jamon rolls in the bar opposite the stadium, there was general consent that whilst PFFC had come second on goals scored we had played the superior tactical game and had adapted to the game from the first whistle, the other two teams often using us an ally and copying our example. Filippo appeared genuinely satisfied and rightly so. It must also go on record what a wonderful job he did arranging such an inspiring and well organised tour! It was also widely noted that probably the most uplifting part of the match came after the final whistle as all three teams displayed a gratifying camaraderie with handshakes and hugs demonstrating genuine affection and love for a form of football which, unlike the conventional game, places the emphasis on working together to create a situation of consensus rather than adversarial opposition. In this way three-sided football does work as a practical demonstration of Marx's observation that working together can inspire bonds of humanity and sociability.
Here is a fantastic video of the event created by Internacional FC:
The match has also been featured by RAI 5 in Italy. You can watch this programme here (6 minutes 45 seconds in.)
(Thanks to Filippo Ricci and Benedetta Mascalchi for the photos.)