Rome March 2004
Gaffer (part 1): Friday morning and I'm on my way in a taxi to Filippo's in Islington for a rehearsal. SkyItalia want me to read extracts from the Italian translation of Mark Perryman's book Philosophy Football. It is raining and the taxi driver is depressed, looking back on things he wished he had done with his life. Amongst other things he wished he had gone to Italy. I keep quiet and stick to safer subjects like the weather. As I get out he blames his mood on the rain: "I bet it's sunny in Italy". Sky have chosen extracts from Shakespeare, Oscar Wilde and Umberto Eco. Filippo and Benedetta provide polite encouragement and one or two corrections to my pronunciation.
After sorting last-minute emergencies, finally get to Liverpool Street station, where most of the squad are assembled – minus Eric and Vipul already ordering their first pint at Stansted, and Kieran, who makes the last train with one minute to spare, aided by Goober. Advance party gets off safely despite a last-minute dash for the gate by Eric, Kieran and Gibbo. Second flight sees first ad hoc board meeting between Chairman and Gaffer.
Slight hold-up on arrival at Ciampino as, inexplicably, the Gaffer Priority Label seems to have become dislodged from my luggage. Catch up with Eric and co, now in another bar, and set off in minibus to the centre of Rome. On arrival at hotel reunited with Marco Uno, but Lele nowhere to be seen, as he can't find 'Hotel des Gaffers' in the directory. After some good tight Roman-style parking make it to Pommidoro, the restaurant where Pasolini had his last supper, the night he was murdered; just in time for a 'double act' between Fil and myself live on Italian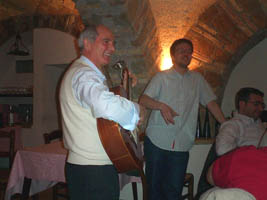 radio. During the course of this interview the Direttore Tecnico of Roma walks in to the restaurant. Down below great food and merriment, made complete when Cornish Al walks in. Arrival of local street musician leads to Al's Sinatra act, rendition of popular Roman songs and many jokes. Good grappa enjoyed by non-playing staff. Owner of restaurant comes down and shows us framed copy of Pasolini's last cheque.
Up early Saturday morning to catch bus into centre of Rome and we all get on, even though some can't get the ticket machine to work. It is a beautiful day. First stop Piazza San Silvestro to meet Mick Walton, who came up with the Pasolini quote and who organised the tournament last year in Pasolini's birthplace, Casarsa. Wander round the centre taking in Palazzo Chigi, site of the Italian government, Via del Corso and Piazza Venezia where Mussolini made his speeches. We have rendezvous at Campidoglio to meet mayor and SkyItalia, but arrive early and walk past Roman Forum to Colisseum, where the Chairman impresses everyone with his knowledge of the Roman Empire. Everyone is so engrossed in Roman history that we forget the time and an agitated Filippo arrives on scooter to escort us back. In the meantime we have lost Eric and Dan.
Arrive back at Campodoglio to meet SkyItalia for my rehearals. Mysteriously, as if to reflect his novels and position as Professor of Semiotics, the Umberto Eco extract is not the one I've been rehearsing. Bumble through some unfamiliar words and awkward tenses. Not so happy with this attempt. Oscar Wilde ('L'Artista del pallone') goes better and note stark physical resemblance between the latter and our young South African player. Much chasing about in search of the right angles by perfectionist cameramen. The team will suffer the same fate later. Dan and Eric arrive; all's well that ends well. Or should that be 'tutto bene che finisce bene'. Journey to stadium is sped up by fleet of taxis and missing lunch. Impressed with squad's refusal of pizza; sign of new dietary regulations taking effect.

Arrive at the Stadio dei Marmi and marvel at the marbles. An incredible setting, with Stadio Olimpico in the background. Mauro, last seen outside tapas bar in Maida Vale, arrives in the style of Neeskens, thirty minutes before kick off and apparently with his own parking space. Re-acquainted with Sky crew for interview. More moving about: now in front of statue, now next to it. Inevitably – for this is Italy – a man with a dog arrives and insists on seeing 'documenti'. Fifteen minutes later and we resume, with interviewer roughing up my smart jacket to make it 'more British style'. Interview goes better and appreciate final question about QPR. However this whole process has now taken almost an hour and I've missed team talk. Getting agitated and not used to such press attention. Phone team sheet through to Filippo. Not as easy as it sounds as we are going for traditional 1-11 numbering, which influences who starts.
Filippo gives team talk with latest news on opposition and who should look after Luigi. Do another press interview and walk across pitch during warm-up (for this is our most complicated pre-match build-up) to meet Matteo, who will form a classic Anglo-Italian partnership with Bruce, Davide and our goalkeeper, and meet relatives and friends - Raffaella and Chiara, Paola and Sara, and Antonella, who have prime seats. Finally, both teams line up in pristine blue and pink Pasolini strips with – uniquely – matching socks and shorts. We are certainly on a new level.

Both teams are lined up in the tunnel waiting to come out onto the pitch. But wait! Where is Filippo? We are in the stadium of dreams and his big moment has arrived. A hundred spectators, a camera crew and journalists are waiting for the teams to come out, yet he is nowhere to be seen. We look anxiously down the tunnel. "Filippo, Filippo! FILIP-PO!!!! ..."
Filippo: ... "Arrivo! I'm coming!"
I've spent the day chasing, and I'll continue throughout the afternoon. Chasing Geoff, thirty minutes late with the SkyItalia journalists waiting. Chasing the mayor of Rome, Veltroni, incredibly busy, to present him with the shirts we've prepared for him. Franco Sensi, chairman of As Roma, arrives with his daughter, then the Lazio chairman, then Veltroni, then me, with my trousers falling (I forgot my belt in London), panting behind with Luigi opening the road through a wall of paparazzi and undistinguished Campidoglio men. Then I chased something to eat. And finally my opponent, the skilful number 14, chairman of the Third Rome borough, San Lorenzo, where we had dinner the night before.
In the tunnel, trying to grab every single moment of this memorable day. Back to the dressing rooms, I forgot the captain armband. A debut for me. Memories chasing themselves through my mind. Lo Stadio dei Marmi, where my mother used to take me three times a week to practice track and field when I was a small kid. The noise of the studs on the concrete, amplified by the arched tunnel. And then, the teams. Waiting for me. Just outside, in glorious sun, I can see my wife, waiting professionally to take the snaps of the teams emerging from the tunnel. And Gregorio. I arranged this before. I wanted to get onto the pitch doing a Dennis Wise. Wembley 2000.
I place Gregorio on his favourite shoulder, my left, and off we go. The ref wants to run, in Italy this is the use. I impose the walk.
We stroll on the immaculate pitch. I'm feeling drunk (and I'll play like). Overwhelming emotions. To lead PFFC, my team, in Rome, my city, in this stadium, part of my upbringing. I've seen the boys doing the warm-up. So proud. And sartorially ... the magic is there.
A centrocampo, Gianni Rivera, approaches us. Later on, Cornish Al will reveal that the former Italy number 10 still laces his boots underneath the sole, like the football boots in the Seventies. This is 100% vintage for you, guys. Again, I want to do it the English way. So presentations one by one, Gianni Rivera like Princess Anne. This is a proper cup final.
Their captain, a mythical figure he is. Ninetto Davoli, Pasolini's favourite actor. Exquisite person, funny, caring, and quite crap as a player, who doesn't do any harm to our cause. Pictures of the two teams together. The minute's silence for the Madrid victims, again English-style, on the centre circle.
Off we go. A few seconds and an easy ball comes my way. I try a pass down the line, I almost hit a marble statue. Later on: my throw-in for Marco. He chests the ball down and rolls it back to me. Bend it like Beckham, I think. I leave the result to your imagination ... I turn my head and see Rivera, still there. I'd commit suicide there and then, hara-kiri they call it. It'll be an afternoon of passion for me on and off the pitch. Number 14 is sharp enough to understand my difficulties: he points me six times: one good tackle, one rugby tackle, one good tackle, he skins me and I foul him in the box (penalty squandered over the bar), another good tackle, another rugby tackle, but I convince the ref that he started it. Good piece of acting, that is.

We start at great pace. The opponents are all over the place, but we don't see it. 'Carpe diem' is not our bread and butter today. If they're confused, we're in our own foggy cloud. Nerves are catching us. Too much pressure. I see it, but I can't do anything to help; I'm already facing big personal troubles as a right back. After 15 minutes, they have five consecutive corners: they've broken the ice. The game is well disputed and, incredibly, disrupted by pedantic continental refereeing: after a while we are confused, we don't know how to tackle anymore, and don't even exploit the decisions in our favour. The ref has taken away from us the aggressivity. The Italians are older, less fit. But they're sharp, solid, clever. It'll turn out to be a typical Italy v England: organisation against frustration. They're lucky to score thanks to a deflected shot. There are not so many chances, both ways.
Tamber: Here are my thoughts and emotions on match-day:
Walking out of the cab to see the Stadio dei Marmi, the disbelief that we could be playing on that pitch. Realising that Dan had gone quiet while he slowly took a million pictures on his supersleek digital camera. Not knowing whether to laugh, cry, be silent; just not knowing how one reacts to the kind of thing you always dream of – playing on a perfect pitch. Looking at but not really seeing all those statues, or the marble seating, or anything other than turf. Even the Stadio Olimpico paled amidst the prospect of playing on a pitch actually made for playing.
Walking across that turf – the oh so hallowed turf! – feeling the slight give in the grass, just enough for mould-ins, like a doffed hat from Pasolini himself (post literature and sex, of course) ... Realising that the changing rooms were down a 'tunnel', a real-life tunnel, for God's sake. Putting on those fantastic socks. Hearing the team from Geoff, via a mobile phone and through Filippo's voice. The crushing disappointment of my worst fears coming true – being named a sub, despite knowing it was the right decision.

The walk out the tunnel; slightly curved so the light doesn't come straight into view. Standing at the mouth of the tunnel trying to work out if pro players take the slope or the stairs. Feeling ashamed to get it wrong. Waiting for Filippo at the last minute; Italian timing. Walking out with the cameras on you – should I look at them, should I smile? What's the etiquette? Wanting to warm up and stretch as perfectly as possible, following each and every order from Kieran and Eric. Wondering why Gibbo looked constipated while he stretched his adductors.
Not having a clue how to respond to Rivera, a man who has played in the flippin' world cup for God's sake! Wanting so much to be on the pitch for the minute's silence. Being on the pitch for the minute's silence... Watching the first half, feeling the anxiety of the team, wanting to shout and encourage while staying warm and continuing to stretch. Loving being able to stretch on dry grass rather than wet concrete – but not as much as being to play.
Applauding an intercepted clearance from Bruce, a well-timed challenge from Vipul. Relishing the expressive madness of Filippo and that wonderful rugby tackle. Hating seeing their first go in and believing desperately – like every sub should – that I could make a difference (despite being the team jinx). Marvelling of the intelligence, the confidence, the organisation of the Italians. Realising that Kieran and Dan had time on the ball but our forwards were just so well marked. Watching their number 9 control the ball mid air and half-volley it away without breaking stride. Being in awe of the sexagenarian, still able to trap the ball and play a prefect pass down the line.
The bizarreness of a half time spent largely waiting for the referees to come back... A second half that simply shot by (only later did I find out it was 35 rather than 45 minutes). The delight in the moment I leant back to play a ball that dropped just over their last man, and the despair of seeing the resulting shot go wide. And then the utter dejection of seeing the second goal go in.
And that final whistle, that shriek that marked the end of a dream. Shaking hands like true gentleman, feeling like a brotherhood connected through the game. Prolonging the "warm down", largely for the benefit of the two Italian ladies still on the sideline. And taking shots at an empty goal. Oh, watch the onion bag stretch (Cornish Al, circa 2004)! If only if it was during the game. If only.
Dan: Having learned in London that the tour was enjoying coverage in Gazzetta dello Sport and Corriera della Sera, the players were a little despondent to find a welcome party at Ciampino consisting only of Gibbo, Kieran and Eric, who had made an earlier flight.

Setting aside the disappointment, we rushed directly to the restaurant in which Pasolini himself last dined. A white-haired guitarist reckoned Gibbo had no hair on his balls and the Gaffer was wearing a tablecloth for a shirt.
During Saturday morning's stroll to the Coliseum I noted the crumbling concrete bore a startling resemblance to the north stand at Willesden. Eric and I 'got lost' taking one too many photos of a fat bloke in tights holding a plastic sword pretending to be Caesar.
On to the Stadio dei Marmi, the marble gods glinting in the sun. Our opponents wore pink and, unrelated, Rivera stayed for the entire first half. Some found the new ball difficult to dominate, others let the paparazzi flashbulbs and terrace chants affect their play.
The friendly, 'exhibition' nature of the game was demonstrated with the spontaneous shirt-swapping on the final whistle. This also saved the embarrassing sight of Kieran throwing his into the crowd.
Back in Blighty I feel that I my understanding of continental refereeing has worsened but my feeling for philosophy is immeasurably deeper and stronger.
Bruce: 200 words on Rome ... I could write an entire novel and still not come close to capturing how unique, how amazing and how surreal this trip was. From playing at the Stadio dei Marmi in the shadow of the imposing Stadio Olimpico and meeting Gianni Rivera, to watching Filippo and the Gaffer on Roman TV sat next to a cheesy TV band and, before we left the studio, meeting an old man who proceeded to tell me (as I stood there open-mouthed) that he played for Napoli against Man Utd at Old Trafford in 1958 ... From Gibborosso to the incredible disappearing Eric and his lovely assistant Dan. From the wonderful restaurants and bars, to the dance-floors of gay clubs (where we all learned the value of the adage 'what happens on tour stays on tour' – eh Tamber?) and from trying to be polite and saying "grazie" and "arrivederci" at every available opportunity to learning swear words and abusing referees along with 40,000 Lazio fans ... Novel to follow.
Gaffer (part 2): Half-time: 1-0 down; we make a lot of the penalty miss and persuade ourselves that it was the turning-point (La Svolta dei Marmi?). Some changes: Tamber(ino) on at left-back, Lele at right-back to give Filippo a rest and Mauro on for the injured Marco, Eric taking a breather and Vipul switching to central mid. Rotating subs means we haven't seen the last of Eric and Filippo. Kieran has to do a lot of work without his regular midfield ally Ally and this will have two repercussions; (a) a bad back to keep him out of the group stage of the Spring Cup and (b) a set of photos that will be spread over the sports pages of the Rome newspapers.
We never stopped chasing. This was part of the problem. Asked numerous times over the weekend why Philosophy Football was different, I said it was to broaden the meaning of the 'beautiful game', as something which requires us to think, reflect on and dream. We got to the stadium of dreams but in truth were given a lesson in our own philosophy; tactics and strategy winning out over honest endeavour and passion. A traditional England v Italy game, except that we had, and often have in London, more Italians than English in our team; and now have our Italians perhaps been influenced by British football culture as much as our non-Italians by Italian culture? Or is this real football internationalism? An inch-perfect pass from Tamber gets Eric in for our best chance and a Cornish Al free kick goes close but otherwise we are still chasing. Matteo, our best player, is looking the most likely match-winner at centre-back. Filippo on again for the last 5 minutes up front nearly grabbed some glory and would have delivered the greatest of all goal celebrations had it gone in (by this time he had won over his own section of the 100 or so crowd).
They got a late, neat, goal to finish us off 2-0 winners. Big smile on Luigi's face. Hearing Ninetto Davoli's post-match analysis reminded us that this experience lasted more than 90 minutes, even if the ref had played the full quota. Watching him in the Pasolini season in London three days afterwards is a reminder of how old he is, as a film star of the Sixties. For a young team, only together for a short time, this was a massive and very memorable experience.
Dopomatch: three years on and we are back in Camp dei Fiori for another aperitivo, followed by the second gastronomic spettacolo at Il Fico. Gregorio has a temperature in sympathy with the pace of his father's weekend, but Filippo – to rapturous applause from all ends of the table – makes it in time for dessert and this time the grappa is more evenly distributed. The players continue the spirit of the Pasolini weekend by going to a gay bar while the rest head for the Brindisi and another board meeting in the chairman's suite.
Sunday morning papers are often avoided by football managers, particularly after a defeat, but opening Corriere della Sera on a stroll into town was a pleasure. Even the right-wing press covered our commemoration of the gay marxist atheist poet and film-maker. For those who got up before midday the Motoguzzi exhibition in the centre of Rome conveniently showed a video of a football game between motorcyclists with a couple of speedy wingers, while the Chairman added in-depth knowledge of the Italian motorcycle industry to go with his expertise on the Roman Empire. In the afternoon to Stadio Olimpico next door to Stadio dei Marmi for Lazio v Udinese who, still in contention for a European place, brought fewer supporters than those who turned up for our game. 2-2; first-half technical excellence worthy of Serie A; second-half defending more appropriate to Hackney Marshes. Entertaining. All that remained was the final media call and Last Supper, with an exhausted Filippo guiding us through our last moments and reflecting on the visit of his team to his home city.