PFFC shows red card to Berlusconi
Memories of an historic weekend of football and politics
Now returned from Rome. Exhausted, but with memories that will always be with me. I was very touched by all your kind words, the wonderful newsletter which brought back many memories from old friends, presents, and of course the special shirt Filippo produced in the changing room and which we wore (myself included) in a dramatic three-sided match. When we were getting changed I brought out my 40th birthday Gaffer shirt, produced by Hugh, with a quote from me: 'Left wing moves are the key to victory.' Filippo then 'gazumped' me with one for the 50th: 'Un altro calcio è possible.' Not really a literal translation, but nearest would be 'Another idea of football is possible'. It was a take on the phrase 'Another world is possible', which was used in Genoa in 2001 and elsewhere by the Italian left, and which I used it in one of my Italian speeches to the team. (I can't remember exactly the first time it was used...?) These two quotes in fact seemed to sum up an extraordinary game on Saturday - my birthday - which had to be moved to a day earlier than planned and meant as a squad we were a bit more depleted. It seems to be a theme of the three-sided matches that the organisation is a bit more anarchic and I have to thank Filippo for getting everything together so well, when I was being distracted in the last days of Mr B's empire.
I think the match has to be our greatest ever comeback. As you know in three-sided football there are three 'halves' of 30 minutes each, and the team which concedes fewest goals wins. We got off to a reasonable start, scoring first, but then in the second half, defending the biggest goal-mouth, we conceded badly so that we entered the final half trailing 4-2-1. The final half got off to a great start with Joe and Matt, the two British London philosophers (to distinguish them from the two Italian London philosophers, Andrea and Mauro) scored early which at least gave us a chance for second place. So it was now (as I remember) 4-4-1. Then, incredibly, left wing moves actually were key to victory as Luigi created havoc on the left flank of Real Futtuccine, who were then leading, and we were instrumental in them conceding no less than 6 goals in the last half. Meanwhile in our goal-mouth there were scenes reminiscent of the Whitechapel three-sided match: namely, stoical defending and heroic goalkeeping from Filippo, which kept them at bay. Filippo also out-talked his opponents in the decisive minutes. As he said afterwards, we won the match because we were more philosophical and wiser when it came to tactics. This is the merit of three-sided football and it seems ideal for us for this reason.
I said it was our most dramatic comeback ever. There are a couple in our history to compare: the memorable defeat of Inter Aztec on the way to our first title after being 3-0 down. Then there was the 4-3 defeat of Air France on the way to winning the midweek league. But I think this has to be the one. For one thing, the other two matches were not played on my 50th birthday! I also played in this match: my longest spell on the pitch since I came on as a sub in early 2003 after Rob pulled a muscle chasing a wayward Sunday morning back-pass from Owen, with the culprit having to deputise in goal and me slotting in at left back. That was a key game too in another successful league campaign. From memory, I think Neil scored all six goals in that match. But in this game our two opponents were used to playing together; we were a mixture of philosophers from Britain and Italy, with the odd nephew thrown in. A remarkable performance.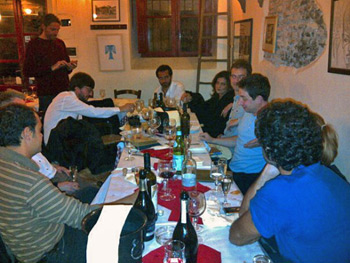 As I say, I will always remember the day. To win such a dramatic match, to see off Berlusconi as he left his Rome residence on the way to the Presidential Palace to hand in his resignation - Joe and Matt were with me shouting Buffone as he left by a side entrance - and to eat great Roman food afterwards. Perfect!
I can honestly say that over the last few days I've slept less hours than at any time since I was a student. I think an average of 3-4 hours a night. I've been doing lots of news interviews and travelling. But it has been worth it. I left the restaurant with Filippo on Saturday at 1.30am to get back to the hotel in time for another interview, at 2am, after which I couldn't sleep for another 3 hours because my head was buzzing with the events of the day. When I arrived back in Warwick last night I was so tired that I discovered the reason the train door wasn't opening was because I was standing on wrong side of train (ie opening out onto the track). In addition to the news programmes I was contributing to, I was also making a programme myself for Radio 4 on the last days of Mr B and my personal and political journey over the last decade - which of course involved many of you and had its own effect on the club in various ways.
I then had a debate with the notorious Nicholas Farrell on Jeremy Vine's Radio 2 show last week. Farrell is a resident of Predappio, Mussolini's home town, and wrote an appalling 'revisionist' account of fascism, where he comes over as an apologist for Mussolini. He also made an infamous interview with Berlusconi, aided by Boris Johnson (then editor of The Spectator) in which Mr B claimed Mussolini 'never killed anyone'. He was the only English speaking supporter of Berlusconi they could find (confirmed to me by the radio producer). Anyway my debate with Farrell (who is at home in Predappio), refereed by Jeremy Vine, is here. It got a bit heated but I hope the gaffer made a few telling passes through his defence. It followed Diana Ross's Upside Down (which is what happened in Italy over the weekend in many ways, on the pitch, Berlusconi...)
Finally, I thank you all for what you have done for me and the club. I would like to invite you all to Warwick for a Christmas party when Filippo is over. More on this soon.
To add to the Gaffer's epic report I'd like to point out that of the 9 players we fielded, there were two over 50 (Geoff and Frank), four over 40 (Fil, Luigi, Claudio and Joe), one fourteen years old (Giuseppe) plus Mauro and Matt. The final score was 4 (PFFC), 6 (St. Onofrio), 7 (Real Fettuccine). I was particularly pleased with the collapse of the latter because they didn't want to play three-sided football, they moaned all morning, they considered themselves as the 'kings of mambo' and when they started to crumble they kept mentioning the 'goals scored' factor (to be used only in case of a tie between two teams), while I kept on reminding them that this was not going to be the case. And so it was.
Another important historical fact: 11 years ago when we first played in Rome, a dubious late penalty given against Raj for a tackle on Luigi, who was playing against us on that day, cost us the victory, as we drew 2-2 and then lost on penalties. On Saturday another dubious late penalty against a Real Fettuccine defender on Luigi opened us the doors of an amazing victory. Luigi cooly converted what was the fifth goal against Real Fettuccine, putting us in the lead.
In the team picture you can see the shirts, red for the players, white for the refs, which I had prepared for the event. Incredibly, two players are missing: my friend Claudio and Luigi were discussing Mr. B's end and missed the photo call. Luigi appears in the captains' picture, but unfortunately there's no trace of Claudio. My nephew Giuseppe appears (in a Barcelona shirt) in the picture of St. Onofrio, cause he played the first half with them, joining us to replace the Gaffer in the second and third halves. Giuseppe is the third of my nephews to play for PFFC, plus on Saturday I also had a brother on the pitch. This makes 5 Riccis in the history of PFFC, one more than the Marco dynasty.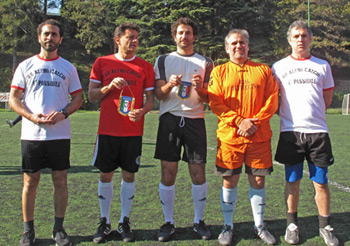 In this picture Luigi, for the first time captain of PFFC, lines up alongside our former player and legend Giacomo, captain of St. Onofrio, and the captain of Real Fettuccina (in an orange shirt), with the refs, Vito and Marco1, on the flanks.
Finally, like in the 3-sided game we played in Madrid, my son Gregorio had the honour of getting the match under way.